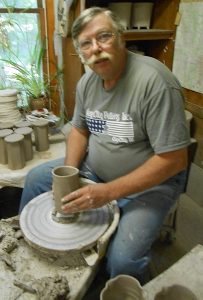 In 1978, Walt moved his pottery to the hills of southern Indiana. Since then, it has grown to include a blacksmith shop and a weaving studio for his wife Betty Westhues. The studios are always changing so check out whats new!
Pottery created at the Hickory Tree Studios consist of functional, daily-use stoneware for the home as well as bird feeders and wren houses for the yard, artistic vases, fish for the wall, bathroom sinks and accessories, and even mousetraps!
Forged iron items available from the smithy include squiggle hooks for mugs and baskets, "J" hooks for coats or kitchen, wall brackets for the bird feeders or planters, and commissions considered. From the loom ,one may purchase rag rugs made from recycled cloth in any colors, tapestries,coverlets and table runners, as well as table mats.